Our Commitment to Sustainability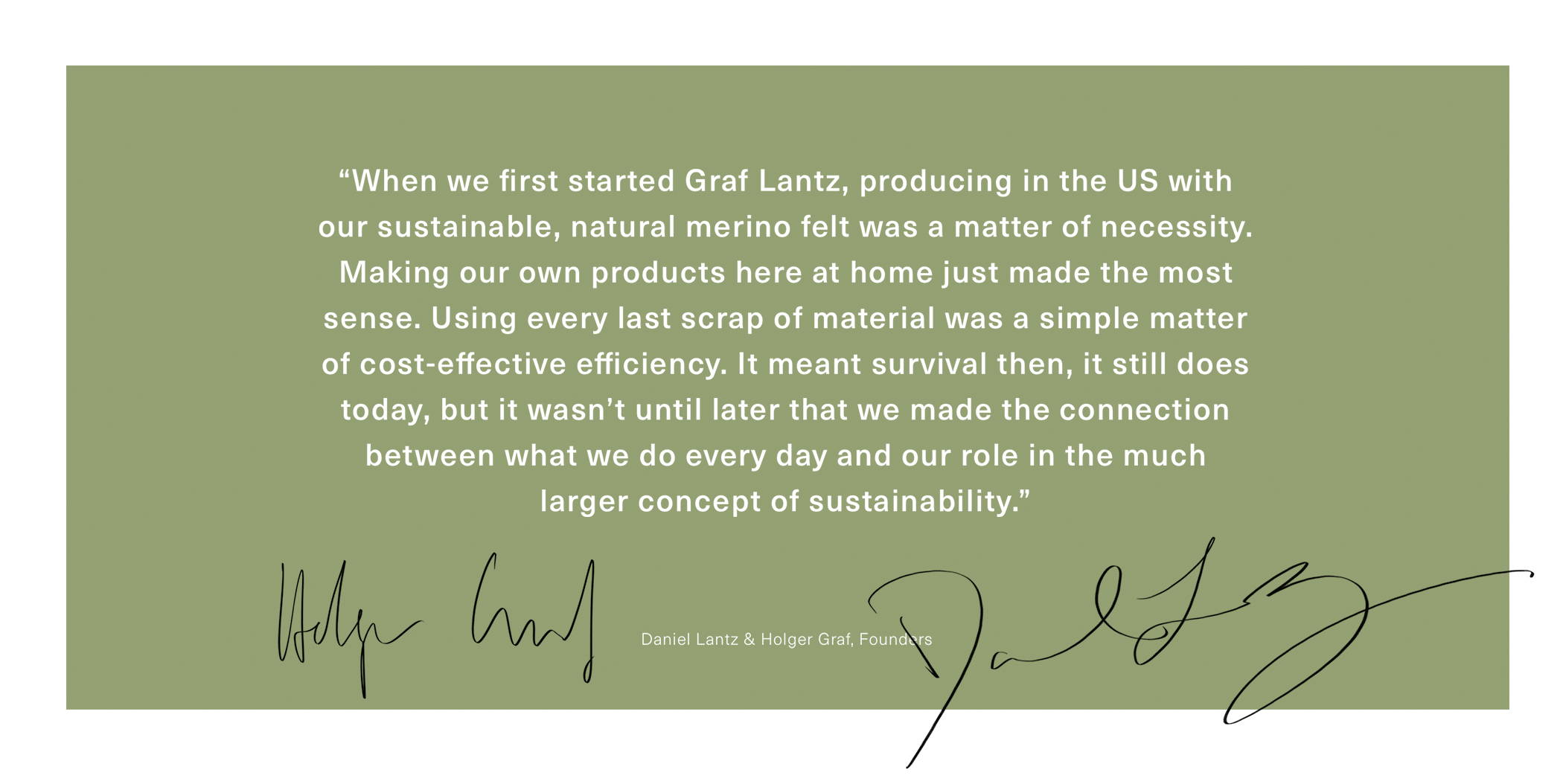 Sustainable Production Practices: Our in-house factory
Our vertical business model allows us to make better choices that align with the broader ideas of sustainability. Manufacturing our line of products in Los Angeles allows us complete control over the production process. For us, quality means more than just a well-finished bag or functional coaster, it means incorporating everything from where material is sourced and how it's made, to how we treat the people whose art and passion transform it into Graf Lantz products.
What makes Graf Lantz environmentally friendly?
Materials: Merino Wool Felt
100% merino wool felt is a natural, biodegradable, renewable material. From its beginnings, the Graf Lantz design strategy was to create a heightened awareness of felt as a sustainable performance textile with attributes that rival modern tech materials for utility and sustainability. Spreading the word has allowed us to align our business and sustainability practices efficiently and effectively.
Why we love merino wool felt

Vegetable Tanned Leather: a tanning process free of chemicals
We use vegetable tanned hides whenever possible in our a tanning process free of artificial chemicals products. With the vegetable tanning process, the oldest methods are still used to create high-quality leather goods. Hides are soaked in a solution of plant matter (mostly tree bark), which naturally pulls water out and preserves the leather. This process takes up to two months and is watched over closely by skilled artisans.
The natural vegetable tanned leather we use will darken and develop a patina over time with wear and exposure to the sunlight. The richness and beauty of the aging process represent the timelessness we aspire to in our designs.
Products made to last
We are consistently striving to create timeless products that are built to last. Choosing quality materials and sustainable practices over trends and convenience sets us apart and our customers recognize and appreciate the effort. We systematically combine ultra-durable materials with hand- touched craftsmanship for the longest lifetime potential for all of our products
Waste not want not
The Graf Lantz sustainability and business policies are classic and simple: Use quality materials and waste as little as possible. We work hard to ensure every last scrap and off-cut is utilized somewhere in our product line. This follows our philosophy that true sustainability begins with the choices we make every day
Sustainability Is a Work In Progress
We started with a hope that common sense, sustainability, and good business practices are all really the same thing. Minimum waste, safe and invested employees and a supply chain of like-minded vendors are, indeed, bottom-line issues. Building unique, lasting products that we believe in for customers who, in turn, believe in us- isn't bad for business either and so far, so good. Even so, it's totally possible that we may actually be powerless in the bigger scheme of things. But that makes no difference to our actions, because whatever happens in this adventure, we are determined we will not go down knowing we were sloppy, didn't clean up our messes, didn't do our part, and didn't fail to leave the place as we found it. It's about being able to live with ourselves. Small things do make a difference in small ways. The more small efforts are the better. Do what you can. Own your sphere. If it turns out that we are all small, then be satisfied to start small and watch it grow and connect and add up to something more with others doing the same thing. That's the hope anyway and, well, you're reading this. That means 10 years on, our reach and our abilities have grown enough to steal some of your time and share hope and belief that small things matter and as long as they make a difference to you, it is a difference worth chasing.
We got the science to back it up
Factsheets: Courtesy of The Woolmark Company